Presenting: Capture The Packet Micro!
We've been working hard on our latest prototype, and we're proud to formally present Capture The Packet Micro! All the CTP features you rely on in a new, micro-size package. Check out our latest offering below!

Smaller size, great flexibility
Capture The Packet Micro was designed with the military in mind. We were tasked to figure out how to fit our product into a standard Special Operations Forces backpack, and we delivered.
We weighed the setup, along with a laptop, cabling, and the bag, and Capture The Packet Micro comes in at 20.9 lbs total. This makes it easy for operators to connect to their mission kit in the field to train like they fight, no matter the location. And best of all: it doesn't even need an internet connection to work.

Full features in a micro package
Capture The Packet Micro includes our cyber range's full feature set. All modules and capabilities of the full-size model are built into this smaller form factor. In addition, the package is compatible with existing network hardware to extend your training capabilities even further.
This tiny box packs a huge punch. It comes preconfigured with all virtual desktops and tools available: the only thing you need to train is a modern HTML5 browser. No additional software requirements mean that Capture The Packet Micro can easily work with government equipment and in secured areas.

Use cases
While Capture The Packet Micro was initially designed for military use, all sectors can take advantage of this advanced new offering. Here are some examples of what you can do with our latest hardware:
Provide cybersecurity training on road shows
Support recruiting efforts at diverse locations
Set up a full-featured cyber range in a gym or conference room
Train in areas without Internet connectivity (rural areas, field deployments, etc.)
Full cyber range capability without even having to check a bag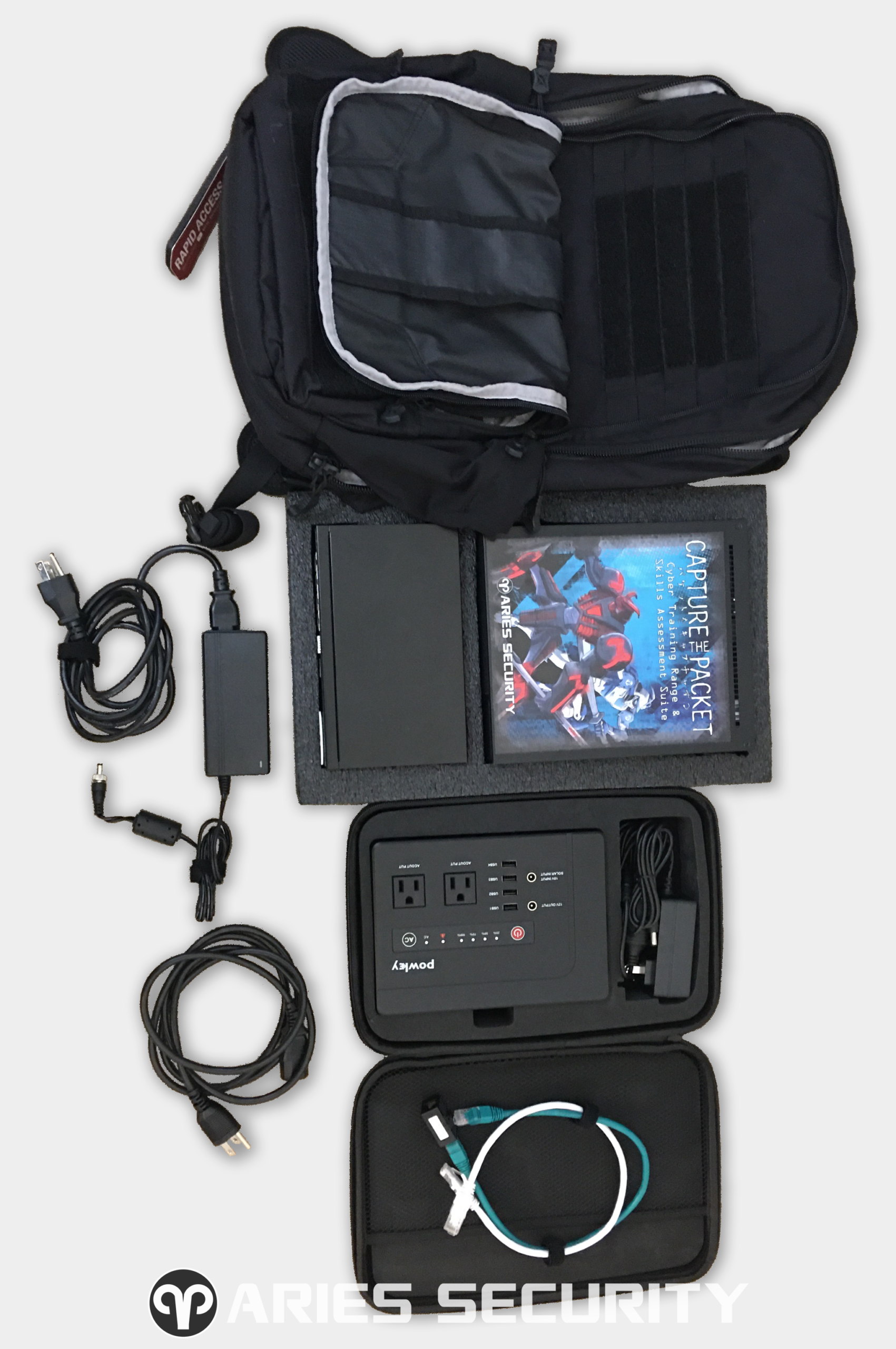 Good things come in small packages
We're proud of this latest offering, and excited to share it with our customers and the cybersecurity community. If you want to learn more about what Capture The Packet Micro can do for you and your organization, contact us. We are available for meetings, demos, and questions: reach out today.

Contact Us Today, Defend Better Tomorrow.
Aries Security wants to help you prepare for tomorrows cyber threats. Our experienced and knowledgable staff is here to guide you through the process of setting up your event, building your content or installing your range. Contact us today.