THE ADMINISTRATIVE EDGE
All the back-end features, none of the hassles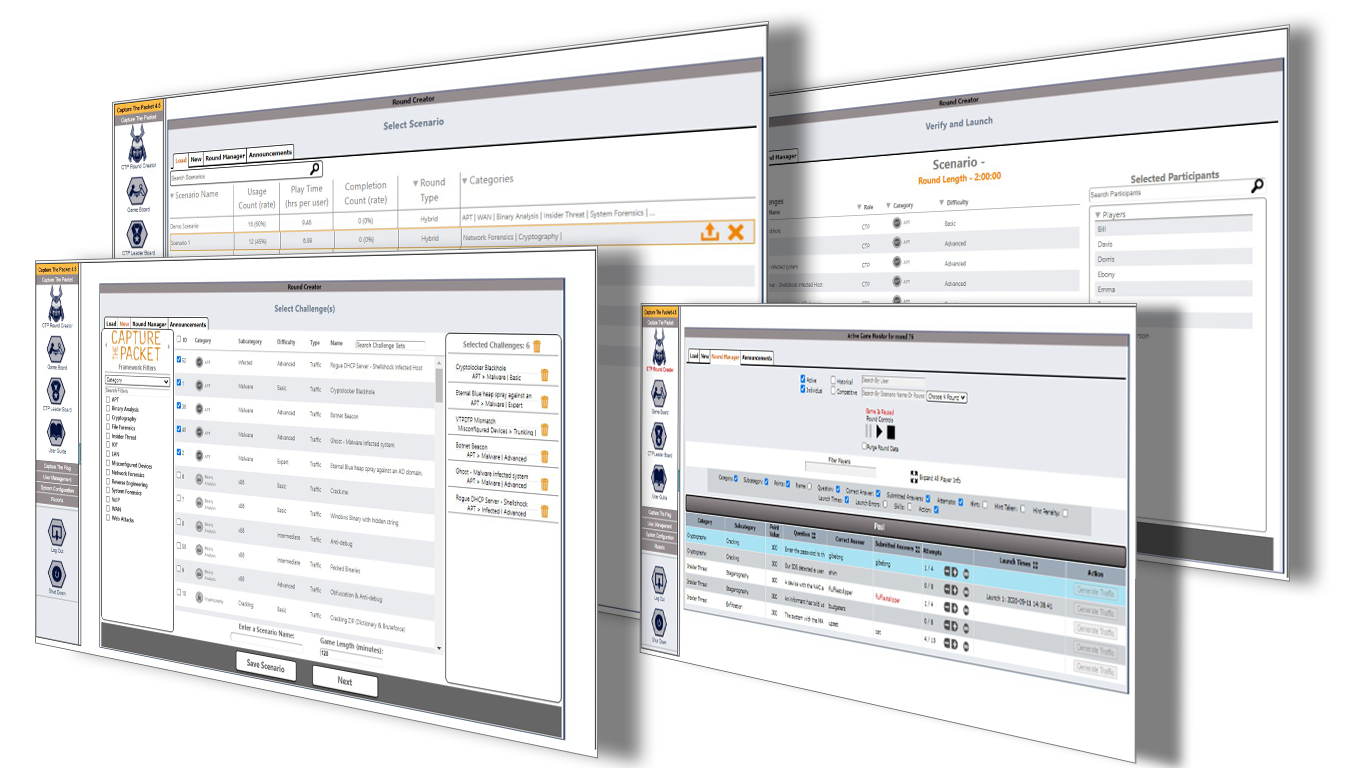 Empowering you to lead
In 2015, Aries Security met with the Pentagon, who had a simple requirement:
"the system needs to be so simple a troop fresh out of boot with limited IT knowledge can drop the system on a table and click a couple of buttons to launch training, so my cyber operators can do cyber training and admins can do admin work"
Capture The Packet has been built with that ease of administration in mind. Our back-end has gone through extensive testing to deliver you the best combination of fully featured admin suite and ease of control. We know you'll be able to maximize your team's range time with these extensive features:
Simple Challenge Selection
Navigating our challenges has been set up to be quick and easy. You can sort through our content by challenge type, difficulty or id, leveraging all the normal search functionality you're used to.
We are also one of the few platforms with full work role integration, either by role or KSA as defined by such frameworks as NICE. We have also built our own custom framework so your sorting options are extensive to say the least. 
Scenario Management
Once you have a grip on the challenges you want in play, they can be added into a scenario with our scenario wizard. This makes managing, editing or deleting scenarios simple. 
Here you can get valuable insights into your users. Simply search for them within a round, and pull up their VM for remote viewing, a valuable asset for training users during a session. Users can be added or removed from rounds on the fly, and you can deliver messages to users and groups with our built-in announcement system.
Tie all this in with our custom leader boards, traffic generator timing system, in depth hint configuration and reporting options, and you can provide a great user experience with ease, anytime, anywhere. 
User & Group Management
Tracking users and progress goes into even more detail. Our first class Cyber PT reporting system provides all the metrics you could possible need on users. These reports can be run on individuals or groups derived from our profile system.
Data within our system can be filtered by users, groups, rounds or times, giving you the flexibility to find any data set you need. All reports, metrics and CPE's can be exported into PDF's, While group reports can be exported into CSV's.   
Contact Us Today, Defend Better Tomorrow.
Aries Security wants to help you prepare for tomorrows cyber threats. Our experienced and knowledgable staff is here to guide you through the process of setting up your event, building your content or installing your range. Contact us today.